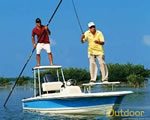 How do you POLE a FLATS boat?
Fishing on a flats boat is a unique experience because you can get pretty close to your target with this skinny watercraft. Imagine a quiet morning where it's just you on your flats boat, your push pole in your hand, and as you glide slowly across the waters, a Redfish comes so close that you could trace the pattern of black patches on its red scales! This extraordinary fishing experience is only possible of course if you know how to pole a flats boat.
Don't be intimidated by the popular notion that flats boat poling is difficult. It's actually quite easy. You just have to be familiar and be comfortable in steering the boat. The best thing to take note of is that you are driving your skiff from the transom, and naturally you must steer the boat in the direction of your target area from the rear.
In moving straight ahead, you need to place the foot of the push pole on the rear of the boat, right in the center. Your target area must be parallel with the boat's centerline. Push until you reach your target area. It's best to position your push pole foot near the engine and drive it right to the bottom of the river.
It makes steering a whole lot easier. In poling a flats boat though, your goal is always to reach your target area, and you may do this in a straight line, or in a diagonal pattern. As long as you're poling towards your desired area, you're good to go.
Poling is perfected in Miami and The Keys where guides and anglers chase skinny water fish 365 days a year.