April New Smyrna Inshore Fishing
Are you interested in Florida Saltwater Fishing? Are you wondering where the best bite is going to be? New Smyrna Inshore Fishing is one of the best outdoor activities you can embark on in North Florida. The vast abundance of wildlife and species to catch make it truly an adventure. Climb aboard our fishing vessels that will take you on an adventure of a lifetime! We hope you enjoy this April New Smyrna Inshore Fishing update!
One of the best ways to experience this fishing trip would be with a local expert. Our experts spend a lot of time on the water making sure they can get you on fish. Each fishing trip is a truly unique experience and each cast can be the biggest fish of your life. Sit back and enjoy while Captain Brad Kayholm cruises you out to your first fishing spot. Hold on, for the fight of your life is about to come!
Inshore fishing has been fantastic this month and is only getting better. Captain Brad had the pleasure of fishing with Dave while here on vacation from Iowa. While Dave was visiting, inshore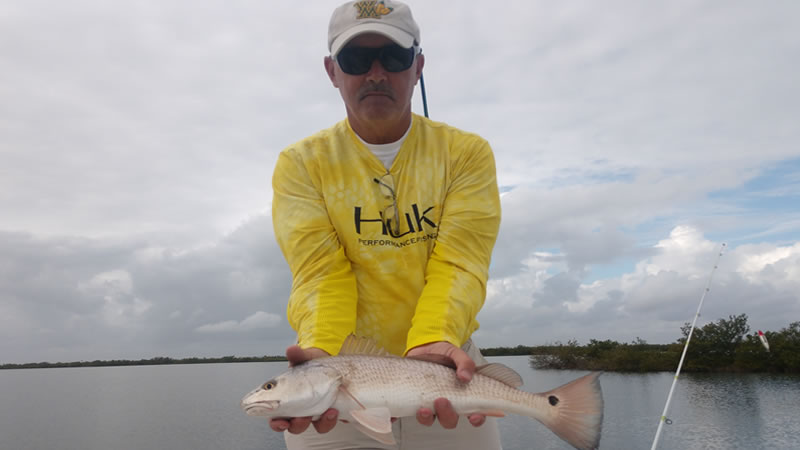 fishing was a must. He wanted to get the full experience of what Florida has to offer. A New Smyrna Fishing Charter was an exceptional option for Dave.
Captain Brad took Dave on an adventure in the backwaters of Mosquito Lagoon. The early morning topwater action was fantastic. Dave boated over 15 Sea Trout up to 21 Inches. Also, Dave caught several nice redfish in slot or keepers. Dave caught redfish and sea trout on topwater baits which made for a fun day on the water. After the action died down on the flats and backwater, they adventured out into deep waters getting into Sheepshead.
Captain Brad is looking forward to seeing Dave come back for more action in the near future!
Just shortly after this fishing charter, Captain Brad was back out in New Smyrna. This time he had the pleasure of fishing with Rick who was visiting and looking for a fishing adventure. Rick brought along his family for this quick 4-hour fishing charter in the morning hours. The fishing conditions changed making it slightly more difficult to find fish but local expert Brad made this happen for them.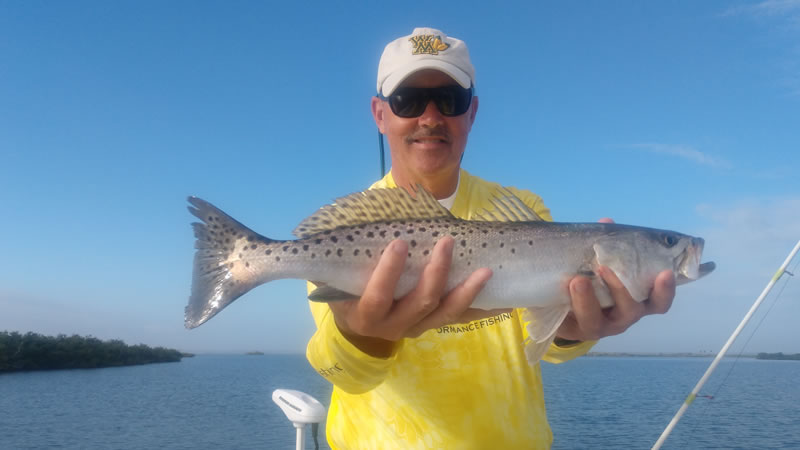 The action was bringing a variety of different species including bluefish, Spanish mackerel, and sheepshead. After several moves, they finally found what they were after. Patience is the key to a good day of Florida fishing. New Smyrna Beach is known for its Redfish fishery and they started to bite later in the trip. Finally, they caught a drag screaming beautiful Redfish measuring in at 36 inches long right at the end of the trip.
This lovely and wonderful family had a fantastic time in New Smyrna Beach, FL. Captain Brad is looking forward to getting them back on the water in the near future!
New Smyrna Inshore Fishing is starting to pick up. As the water warms, the Redfish begin to bite. Captain Brad is on the fish and can show you an amazing time. He caters to all your needs and makes sure that you have the trip of a lifetime. We look forward to seeing you on the water next time while fighting your dream fish!
Your Adventure Starts Today  while Visiting Florida!!
If you enjoyed this post about Florida Fishing, you might also enjoy our Fishing Blogs
Don't forget to follow us on Facebook, YouTube, Twitter, and Instagram!
Looking to Book your next fishing adventure? Learn More!!