Cobia Bait
What bait do you use to catch Cobia?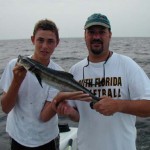 What Cobia bait? Because the waters of Florida, which have a warm temperature and abundant marine life. It's home to thousands of fish species including the great Cobia. The Cobia is among the most favored game fishes because of its variations in size, growing from 2 meters to 6 feet. This fish is abundant all throughout the state of Florida but does have a few favorite places to hang out. Including, Tampa, Palm Coast, St Augustine, Florida Keys, and a regular to Destin, which also known as "The World's Luckiest Fishing Village".
Found on Florida's Emerald Coast, the city of Destin is one of the top places for Cobia fishing in the world. Cobia can be found inshore in Destin particularly in the city's bays, inlets, and mangroves, and also nearshore around stationary and floating objects like pilings, beacons, markers buoys, and wrecks.
The Cobia can be easily caught fish because it is attracted to boats. Being an extremely curious fish species, causes it to be very vulnerable. However, just like fishing for any other game fish, the equipment you use is key to success. Among the most important fishing items to consider in Cobia fishing is bait. When choosing a bait to catch Cobia, of course, you can choose between natural or artificial bait.
Natural Best Cobia Bait
When choosing natural bait, get a hint from the Cobia's feeding behavior. The Cobia's diet mainly consists of crabs though they also feed on eels, shrimps, clams, squids, and smaller fishes. Fishes that serve as prey of the Cobia include the menhaden, minnows, mullet, perch, and spot among others which we will get more info below.
Because all the above-mentioned baits are not available all-year-round, you should choose on the basis of their availability during the season. You can purchase live bait in tackle shops in and around your fishing area. Many anglers choose to catch them on there own.
Another common forage species, juvenile mullet. A black and silver juvenile mullet are mostly caught by casting a net. Although some coastal tackle shops stock them in season. The size and shape make for aerodynamic casting or trolling ability. And they stay frisky in large live wells or even 5-gallon buckets for a long time. By covering the bucket with a damp towel. It prevents escape and keeps them calm.
Artificial Cobia Bait Rigs
When using artificial bait, you can use any type as long as they match the natural bait the Cobia is feeding on at that time of the year. Because the Cobia is a very discerning fish, the diversity of artificial baits in size and styles is important. The Cobia has great eyesight!
There are no rules in choosing the type of bait to use. Normally, the kind of bait to use depends on personal preference and experience of the angler. A variety of baits, however, is the key to a successful Cobia fishing as one type of bait that may catch a Cobia may not catch the next one.
You can find Cobia following bigger marine predators such as turtles, sharks, and manta rays as they scavenge for food. You could also search for them in bays and channels. Although they are available year-round in Florida, they are most abundant during November when they migrate northwards.
Fishing Regulations
Cobia is a specie that can be fished all year long. In Federal waters, you can keep up to two fish per angler. In Florida State waters on the Atlantic side, you can keep one fish per person, or six fish per boat maximum, whichever is less. On the Gulf coast of Florida, you can only keep two fish per boat. The minimum size limit is 33 inches, head to tail fork. All fish must be landed intact and kept that way before cleaning.
Fly Fishing Tactics
Fly fishing for Cobia is best done when you can spot the fish, what they refer to as sight-fishing your target. A really efficient way to catch Cobia on a fly is the same technique used fishing for Mahi Mahi. One you the first Cobia hooked, use the fly rod to catch repeatedly around the hooked Cobia as they almost always travel in groups. This technique will arouse those fish nearby and there's a very good chance they will bite.