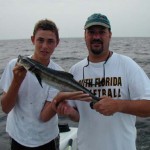 What bait do you use to catch COBIA in Destin, Fl?
Because the waters of Florida have a warm temperature and abundant marine life, it is home to thousands of fish species including the Cobia. The Cobia is among the most favored game fishes because of its variations in size, growing from 2 meters to 6 feet. This fish is abundant all throughout the state of Florida including Destin City, also known as "The World's Luckiest Fishing Village".
Found on Florida's Emerald Coast, the city of Destin is one of the top places for Cobia fishing. Cobia can be found inshore in Destin particularly in the city's bays, inlets, and mangroves, and also nearshore around stationary and floating objects like pilings, beacons, markers buoys, and wrecks.
The Cobia can be easily caught because it is observed to come near boats, being an extremely curious fish species. However, just like fishing for any other game fish, equipment is key to success. Among the most important fishing items to consider in Cobia fishing is bait. When choosing a bait to catch Cobia, of course, you can choose between natural or artificial bait.
Natural Bait for Cobia Fishing
When choosing natural bait, get a hint from the Cobia's feeding behavior. The Cobia's diet mainly consists of crabs though they also feed on eels, shrimps, clams, squids and smaller fishes. Fishes that serve as prey of the Cobia include the menhaden, minnows, mullet, perch, and spot among others.
Because all the above-mentioned baits are not available all year-round in Destin City, you should choose on the basis of their availability during the season. You can purchase live bait in tackle shops in and around Destin but you could also catch them on your own if you prefer.
Artificial Bait for Cobia Fishing
As to artificial bait, you could any type as long as they could match the fishing area's natural foliage. Because the Cobia is a very discerning fish, diversity of artificial baits in size and styles is important.
There are no rules in choosing the type of bait to use. Normally, the kind of bait to use depends on personal preference and experience of the angler. A variety of baits, however, is the key to a successful Cobia fishing as one type of bait that may catch a Cobia may not catch a next one.
You can find Cobia following bigger marine predators such as turtles, sharks and manta rays as they scavenge for food. You could also search for them in Destin City's bays and channels. Although they are available year-round in Florida, they are most abundant during November when they migrate northwards.