FLY FISHING MOSQUITO LAGOON
Mosquito Lagoon, along with Indian River Lagoon, is considered "The Redfish Capital of the World" because redfish are found there all year-round. Moreover, redfish caught in the lagoon are often larger so that you'd best prepare the fight of a lifetime. This can be done with spinning tackle, artificial lures, live-bait, or for the faint of hearts we challenge you to go Fly fishing Mosquito Lagoon for the maximum thrill.
Because the Mosquito Lagoon is home to Florida's largest concentration of redfish, it is considered a premier fly-fishing destination. A lot of anglers, even those from far lands, travel to this side of the world to catch redfish. In fact, there are boats for rent on the lagoon. So that traveling anglers need not bring along their own boats and equipment. Because of is popularly and difficult to fish, there are also many guides offering their expertise.
EQUIPMENT TO GET THE JOB DONE
The Rod
A quality fly rod in 6, 7, and 9 weight, preferably a G-Loomis, Orvis, Hardy, Sage something that will help you cast and with accuracy. The average fish can be caught on a 6wt, but if you are less experienced the 7 is easier to cast into the wind, casting longer distances and fighting the fish. Majority of the anglers fish with a 7 or 8wt rod. It's best to only use floating lines, definitely needed for fly fishing Mosquito Lagoon on the flats. We suggest anglers use 8′ to 10′ tapered leaders. Spooled with 14lb to 16lb test line.
The Fly
I would recommend using a #4 hooks, in the summer months. Use a #5 with topwater flies such as gurglers and poppers during the winter months. It's common to use flies with weed guard when fishing the Mosquito Lagoon area. You truly can use any Fly bait that resembles flies, insects, which are becoming the most common baits to use. But other flies that mimic worms and minnows are also growing in popularity. There are plenty of different types of baits and lures available in the market. Just choose the one that is the most attractive or the one that resembles common bait.
Most days, the accuracy and speed of the cast are far more important than what rod type or color of a fly being used.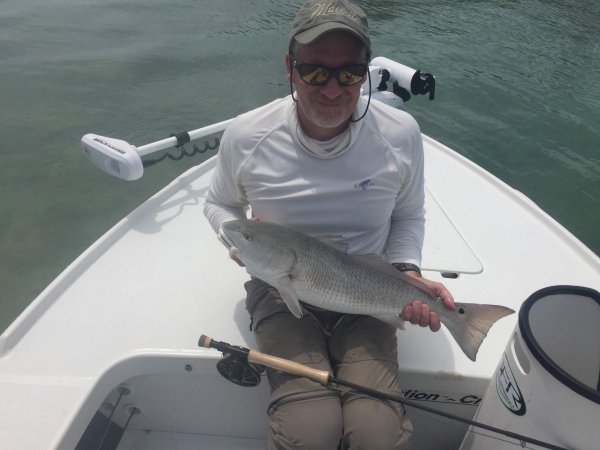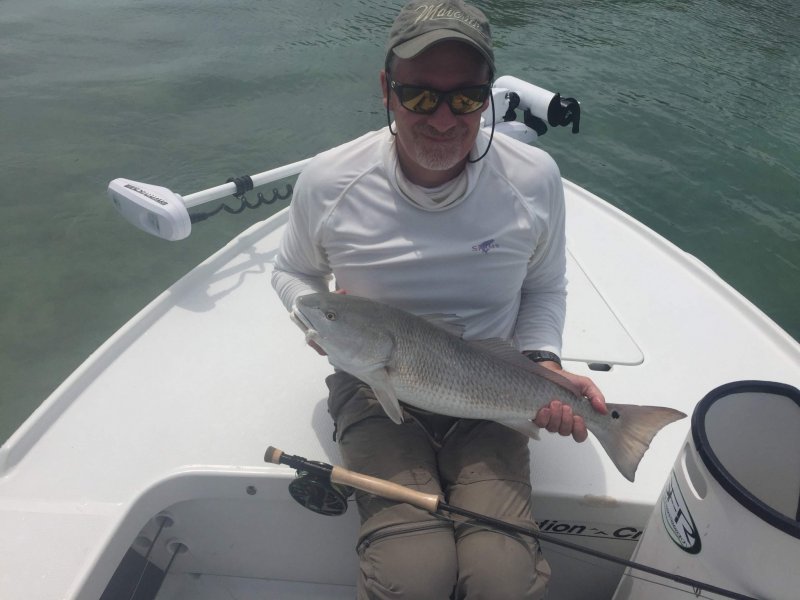 THE RIGHT CONDITIONS FOR FISHING
Finding clear water in the lagoon is of the utmost importance whenever fishing. But it is tremendously important when sight fishing for the obvious reason of increased visibility of the lure and fish. Most of these area lagoons have up and downs, meaning water shifts and causes a stain or off-color water.
The area also has numerous large algae blooms that occurred based on rain, water levels, and so on. This causes lack of sunlight to the submerged grass which then dies off no providing the natural seagrass beds for baitfish to feed. Lack of sunlight then creates algae, which then begins to deplete the up oxygen. Thankfully this is now being addressed and is happening less and less each year allow the fish to flourish again.
LOCATIONS TO TARGET FISH
The Lagoon is an all year round fishery, for all anglers. Fly fishing anglers can fish the majority of the year comfortably except in windy season. Which is only a couple of months a year. Common species caught in the Lagoon are redfish, black drum, and spotted seatrout in the Mosquito Lagoon and the Indian River. These fish are found all around the state of Florida and other states. But the grass flats of the lagoon are special in that you catch then in water less than two feet deep.
The standard method of fishing, either conventional tackle or fly fishing is sight fishing. For the best success, be in stealth mode and stand on the bow of the boat to get the closest position to the fish. Fish can be spotted by anyone, but local guides really know what to look for in the water. It is important to make your casts count, quality over quantity. Always present your bait to a specific target you can see.
WHEN AND WHAT TO TARGET
Other times of the year, like summer and fall you can see migrating species like tarpon, ladyfish, and super fun jack crevalle. Most of these fish are in the 5-20 pound range and are best targeted in the summer months. The fish are very active early and late in the day and respond well to flies during these times. Once hooked, all these species provide a great fight. The Fly fishing in Mosquito Lagoon, Indian River, and the Banana River are collectively the best saltwater area in Florida.
All three locations are excellent because they are very accessible by great destinations that surround them. Daytona Beach, New Smyrna Beach, Titusville, and Cocoa Beach area in the heart of the lagoons. But a plethora of traffic comes from nearby Orlando and Kissimmee. If you are in those areas, it should be something to consider.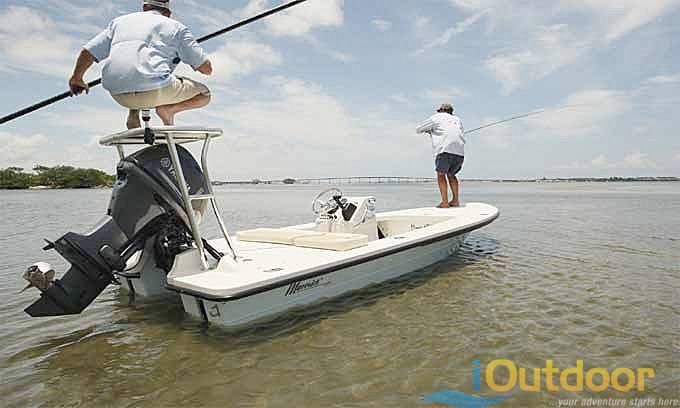 WHY HIRE A FISHING CHARTER
If you have children or family-friendly members and you really want them to catch fish. If you're looking to score a few points and entertain a client for business. We encourage you to seek a professional fishing chart captain for the best results. On a scale 1 to 10 on fishery difficulty the three lagoons are rated an 8+ for the difficulty to catch and navigate.
When bringing your kids and wanting to expose them to the wonders of nature and local fishing, you need results. Fishing the waters of the 3 Lagoons can be challenging, even for the experienced angler. Fishing guides, don't guaranty results but it's extremely better odds. When family or business clients are brought to on these fishing trips. They offer mixed bag fishing to keep the action fast and furious.
This can be done in the tidal waters of Ponce Inlet, New Smyrna Beach, and Edgewater, these areas provide a greater chance of catching fish as there is an abundance of fish. So risk it or not, a fishing charter is a great way to get consistent measurable results with the right captain.
THE LAGOON RULES
There are certain rules to follow when fishing in the Mosquito Lagoon. A federal permit or license is required before anyone can start to take their personal boat in these areas. Also, remember that there are certain areas where boating is not permitted. Such as in protected areas designated for manatees. It is important to know these specific areas plus where you'll be able to get the most redfish catch. Most of these areas are posted well from the water sight.
It might take some time after you arrive at a certain portion of the lagoon to catch a redfish. Remember, the sound of the boat is key and scares them away. So be patient, and stealthy quiet while you fly fishing. And before you know it, the redfish will come out to play!
KNOW YOUR BOAT RAMPS
The Mosquito Lagoon and Indian River systems are filled with easy access points for both kayaks and skiffs. Knowing where these boat ramps are in relation to where you are hoping to fish. This will help you decrease the travel amount, and have more time fishing. Spend less time running over other potential fishing areas. Running 10 miles north over the same flats to fish later is not a good plan. Don't be that guy!
Talking with locals, looking on google earth, and even reading a few road signs. This will drastically help you find the boat ramp best for you on that particular day.
In Conclusion