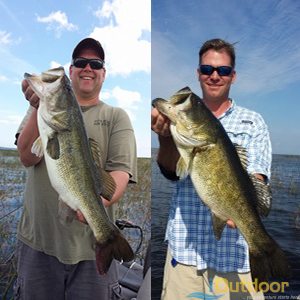 iCast Orlando 2014 Partners, Groups, Corporations, Visitors and guess don't miss the opportunity to experience why they call Florida the "Fishing Capital of the World."
Whether it's getting out for a 1/2 fishing after the show, entertaining a clients or planning a extra day before or after the show in Orlando we have the Captains and locations convenient for you.
No rental car, no worries for your convenience we can arrange for pickup service from the convention center and iDriver area hotels and resorts as well.
If your in the fishing industry, you've probably heard about the fantastic fishing in Orlando. There's a reason why, and we would like to show you. We have private big bass fisheries just a long cast from the convention center on Big Sand Lake as well as popular Lake Toho for giant BIG bass fishing with artificial lures or big Florida shiners. Where everyone can be the hero really quickly.
The area has several other great fishing opportunities, Inshore fishing for Redfish, Sea Trout and others. Are maybe you prefer to venture Offshore for the big game…It all can happen from downtown Orlando.
Have new fishing gear you want to try or maybe you have none at all? Either-way we can accommodate you with some of the best fishing and equipment in the industry.
So if fishing is your passion or fishing is your business, which we know it is that's why were all at i-Cast. Then don't past up the chance to experience Florida's fishing while at iCAST Orlando 2014.
We are also offering media specials for all the media groups covering the iCAST Orlando 2014 event. Your company introducing a new lure at iCAST, need a photo shoot with a few big Fish, we can accommodate that as well.
Your privacy is the utmost importance and your support is appreciated.
We look forward to seeing everyone at iCAST Orlando 2014!
For more information iCAST Orlando 2014 area and styles of fishing visit Orlando Fishing for on just bass fishing guides check these websites:
Bass Fishing Guide Orlando | Orlando Florida Bass Fishing | Orlando FL Bass Fishing