Marathon Backcountry Saltwater Fishing
Have you ever wondered where the best backcountry saltwater fishing is? The Florida Keys and more specifically Marathon have beyond exceptional backcountry fishing. A whole array of species can be caught whether on light tackle or fly. Explore what Marathon Backcountry Saltwater Fishing can provide you and your family!
Travel the backcountry canals and shallow water flats of the Florida Keys with light tackle in search for several elusive silver species. These backwaters can provide you with the most breathtaking outdoor experience while exploring absolute Florida fishing paradise. The heat of the summer is a perfect time to come catch and visit Marathon.
As the summer months roll on, Marathon Backcountry Fishing will continue to get better. Fishing begins to heat up for species like Bonefish and Permit on the flats. Air temperatures will continue to rise and are maintaining in the mid 90s. The best time to get out on the water is early morning in order to beat the heat and catch some quality fish.
Marathon Tarpon Fishing can be best experienced when the sun is rising up and the light is just breaking the horizon. When you hook into these silver giants, hold on for a fight of a lifetime! Don't worry too much about missing first light as they still bite strong through the first half of the morning. One of the pleasures of fishing these flats, backcountry and inshore waterways is that you have resident tarpon roaming around looking for a good meal. Tarpon will hold up in channels providing you with an excellent opportunity to land the one you are after whether using light tackle or fly fishing equipment.
Many come to the Florida Keys to catch the Florida Slam which would be landing a Tarpon, Snook and Redfish. You are highly likely to get to experience this during these incredible summer months. Our local expert and knowledgeable Captains know exactly where to hunt down all three species. Captain Robert Horachek is one of the best in Marathon especially for exploring the Florida Keys backwaters. Years of experience has led to understanding fishing conditions that play a pivotal role in landing all three species of Florida game fish.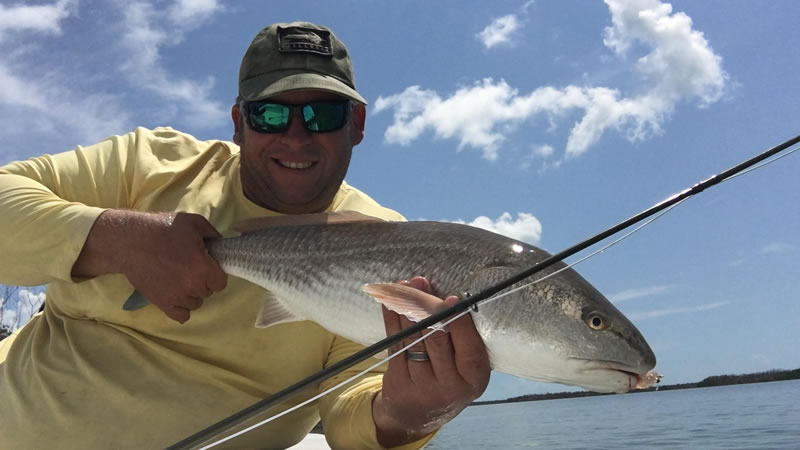 Finding schools of Redfish is one of the highlights of Marathon Backcountry Saltwater Fishing Charters. Some days have been better than others with locating schools but once you find them, they bite good. Red Drum Fishing here in Florida and especially the Keys is one of the ultimate fishing experiences. They are incredible hard fighters and great eating when in season.
Another exceptional species to catch here in the Backwaters of Marathon, Florida is the Florida Snook. The fishing has been spectacular especially this summer. Our clients and anglers are finishing their days on the water satisfied with the numbers of quality snook they caught. Each snook will fight harder and harder which will keep you hooked and looking forward to your next fishing charter.
One of the most sought after game fish in the Backwaters is the elusive Bonefish. Different times and conditions throughout the summer have provoked more favorable conditions to land a Bone. As long as the water doesn't heat up to rapidly in the flats, you will be able to land several nice and quality fish. Once you are on them, the fishing is great for bonefish all day long. If you are looking for the best opportunity to catch the bonefish of your lifetime, make sure you get out early in the morning. The stealthy hunt will keep you focused and excited for the next chance to fish for them in the flats.
Additonal Marathon Backcounty Saltwater Fishing Species:
Even though all of these species can keep you occupied for days on the water, there are several other species that can provide some fun in the backwaters of Marathon. Barracudas, Jack Crevalle and even the occasional shark can provide additional action worth remembering! You never know what will bite the end of your line and take you for a ride.
Summer time is by far the most exciting time to come fishing here in Florida. Not only can you enjoy the beautiful blue waters and white sandy beaches of the Florida Keys, you can get hooked up on some of the best species and backcountry game fish. Whether you are looking for the Florida Slam or just to enjoy an amazing fishing adventure, Marathon Florida has you covered. Marathon Backcountry Saltwater Fishing is one of the best opportunities to explore what the Florida Keys truly has to offer.
Don't miss out on your adventure today with our local experts and professional Captains. Hop on board and let us take care of all your fishing needs. We look forward to seeing you on the water next time!
Your Adventure Starts Today while Visiting Marathon.
If you enjoyed this post about Saltwater Fishing, you might also enjoy our Fishing Blogs.
Don't forget to follow us on Facebook, YouTube, Twitter and Instagram.