Tarpon Fishing in Fl, the Best Kept Secrets
Prime Location for Tarpon Fishing
Being able to go Tarpon fishing in Fl is one of the greatest feats an angler can ever achieve or boast about with fellow anglers. It isn't just about using the right technique for tarpon fishing. Sometimes, it is also all about fishing in the right location, and the timing. For an even greater chance of catching tarpons or what is known as the silver king, the best place anglers can go to is the waters of Florida.
A great aspect of Florida tarpon fishing is that, depending on the chosen method, even a rookie can land a 100+ plus-pounder. This can be accomplished by using live bait on a circle hook in a channel where Tarpon is most aggressive. Why some would say live-bait fishing is the easy way, it does take the necessary additional skills to catch one on artificial lures. And maybe even an additional step in talent to weaponize yourself with a fly rod and tackle the Siler King. Why all three methods are home to specific locations and anglers' passion, Florida is still the place to concur with your goal in the method you prefer.
In this article, we going to cover the best Tarpon fishing seasons in Florida and how they vary from one area of the state to another. Discuss the habitat and size of the fish, and the best time of day (day vs night). The bottom line is that you can locate Tarpon almost anywhere in Florida in the right month of the year.
Where does Tarpon Hide in Florida?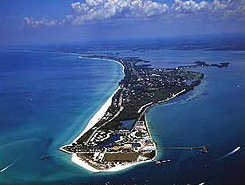 There is one place in Florida where a typical 80-day season can produce an average of 5,000 Tarpons landed. This fishing location is considered the world's best fishing Tarpon hole. The key part of this location referred to here is Boca Grande Pass. The Boca Grande Pass is located on the Florida West Coast, just at the mouth of Charlotte Harbor. Charlotte Harbor is even renowned for being one of the nation's largest underdeveloped estuaries. It has miles of unspoiled serenity and world-renowned fishing, especially Tarpon fishing.
Location Theory
It is unknown why Tarpon chooses to migrate to Boca Grande Pass. There are even many theories surrounding it. In reality, Boca Grande Pass is one of the deepest natural passes in Florida. Also, it is a known fact that Tarpons like to stay in deep waters. The depth of Boca Grande can be as deep as 80 feet. It is also the only major outlet of Charlotte Harbor that is fed by two major rivers namely, the Peace and the Myakka.
Boca Grande Pass Attraction
The main attraction of fishing in Boca Grande Pass is the "hill tide". This is a wonderful event in nature that no tarpon enthusiast should ever miss. During the spring tides of the full and new moon, there are millions of "pass crabs" that get washed out from Charlotte Harbor to spawn. It is during this time that anglers can find a feeding frenzy with giant tarpon getting intoxicated by crabs. Nowadays, however, crab runs are more difficult to predict. In the event that anglers find themselves in luck and happen to be in one. It's not uncommon to get up to 4 hookups on one fishing charter.
Last but not the least, fishing in the pass is regulated and there are many rules that abound it. It is then recommended that novices and angling experts hire a fishing guide prior to fishing in Boca Grande Pass by themselves to get experience and understand the dos and don't of fishing the pass.
Tarpon Fishing Florida Keys
The Florida Keys are a vast and troublesome place for some anglers to fine Tarpon, know that is the same for everyone. You need to concentrate your focus on the migration, then the species itself. Here's information on the location to better understand the Tarpon fishing in the Florida Keys.
Upper and Middle Keys
There is a large population of Tarpon around Channel Bridges, Tom's Harbor, Seven Mile Bridge, and Long Key.  Also, look for them in the flats near Islamorada Key. Additionally, Buchanan Bank in Marathon near Jack Banks are all considered good places to fish. While present near the Keys year-round, peak season runs from March until July. During springtime, Tarpon can mostly be located on the Florida Bayside. But as the year progresses, they start moving to the Atlantic side looking for deep water.
Lower Keys
The best locations are always Marquesas Keys, Harbor of Key West Harbor, and the famous Bahia Honda Bridge. Starting sometime in May, lasting through the middle of July is the best month to focus on the bridges that hold Tarpon. To catch more resident fish and exceptions to the rule, Key West Harbor has feeding Tarpon January through March every year. One of the places in the Keys that holds big Tarpon and in big numbers is Marquesas Keys. Simply because it is uninhabited, the Islands are located South of Key West and are only accessible by boat. The Bahia Honda Bridge is a commonplace also to find tarpons, this bridge is used to connect Spanish Harbor and Bahia Honda Key. These waters are surrounded by Tarpon all year long, because of the residential Tarpon and the Migration of tarpon.
Biscayne Bay Tarpon Fishing
While located just north of the Florida Keys, Miami is a big part of the Florida Tarpon migration pattern. Because of its vast port and inlets south of Biscayne Bay, it provides a fabulous location for Tarpon to migrate and fee on their way down the coast of Florida. Specifically, in the Government Cut (between Miami Beach and Fisher Island) and Port Everglades, look for this migration of tarpon to show up from February and hand around to June.
Other Florida Tarpon Fishing Locations
To help eliminate some water if at all possible, any city in Florida with a Port can be moved up the list of great Tarpon locations to visit. Many of these are found throughout Florida's Atlantic coast, with ports and inlets offering great Tarpon fishing. This simply provides a freeway of traffic for Tarpon to come in and go as they wish. Our job as anglers is to intercept them in their travels when stopping for a meal. Other great Tarpon cities in Florida are Stuart, New Smyrna, St Augustine of course Jacksonville all on the east coast. Marco Island and Naples have Tarpon almost all year round. Skipping Boca Grande because we covered that about, Clearwater, St Petersburg, and Tampa all provide some of the finest Tarpon fishing in Florida during prime times.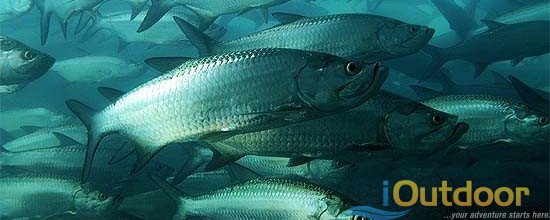 Most Talked about part of Tarpon Fishing
So you have a Tarpon securely hooked now what? Tarpons when hooked, are known for their somersaults, high jumps and massive head shakes. The signature move known through the industry for fishing Tarpon is to "bow to the King." What is that, as the Tarpon is about to leap out of the water, lower your rod tip and point your rod outwards towards the fish to provide the line slack. There is no stopping a Tarpon of any size once hooked. There is no rushing or horsing it to the boat, no matter the line size.
Drags on reels were made because of fish like these, make sure to do everything properly. The drag should be well set BEFORE you hooked up because things will happen way too quickly to adjust drag during the fight. The drag on your reel will not need help if set right. Once you realize the drag is not holding or it is set to lose. You can attempt to hold your fingers on the spool to slow the pace, but not recommended. Just do not touch the line, or press the line against your rod. This will instantly create additional friction and resistance and cause the fish to get off.
What about the fight?
The only way to properly fight a Tarpon is to battle them till they get exhausted. You will notice a considerable difference in the run and pulling and they usually start to roll on their side. Because of being one of the top sports fish in the world, there are rules to landing them. You should almost always use a lip gaff on bigger Tarpon and a Boga Grip on small ones. This will secure the fish by its lower lip and the fish will be held while the hook is removed or if needed clips the leader.
Many things have changed over the years with tarpon fishing, the advent of circle hooks, and the policy of not taking or lifting the fish out of the water to take pictures. This is why you see so many pictures these days with the angler in the water because of good conservation practices. Circle hooks have added much better landing and release of Tarpon that are caught. Records show the release rate has more than doubled in the past decade because of circle hooks.
Different Techniques for Tarpon Catching
Artificial Lures
Here are a few proven productive lures, that iOutdoor Charter captains have proven to be effective. Keep in mind, that artificial lures are best used in a given scenario. You will use a much lighter line than you will with live bait. The main reason, the lighter line will be used for casting distance when sighting fish. You are almost always going to get the best casting distance using a spinning reel when using lures and plugs.
The spinning reel will also help with controlling the retrieve of the lure action and speed. Additionally, taking up the slack when a fish hits and comes at you or maybe just work lures in current, both are vital and accomplished better with spinning equipment.
Hogy Lure Original Mirrolure 65M or 77M in color 18 or 21
Spooltek (5 ft to 14 ft depths – larger profile with vibrating tail)
Maybe more important than the lure itself, could be the weight. When we are referring to the weight of the lure, this could be accomplished by hook size or adding lead. When fishing lures like jigs, be sure to think about the proper weight for the area you are fishing. Do you want to be on the bottom, middle, or top of the water column?  This is going to be determined by where the fish are feeding. There are many laws regarding which lures, hooks, and handling of fish, and they are all set by the FWC you read these guidelines before going fishing.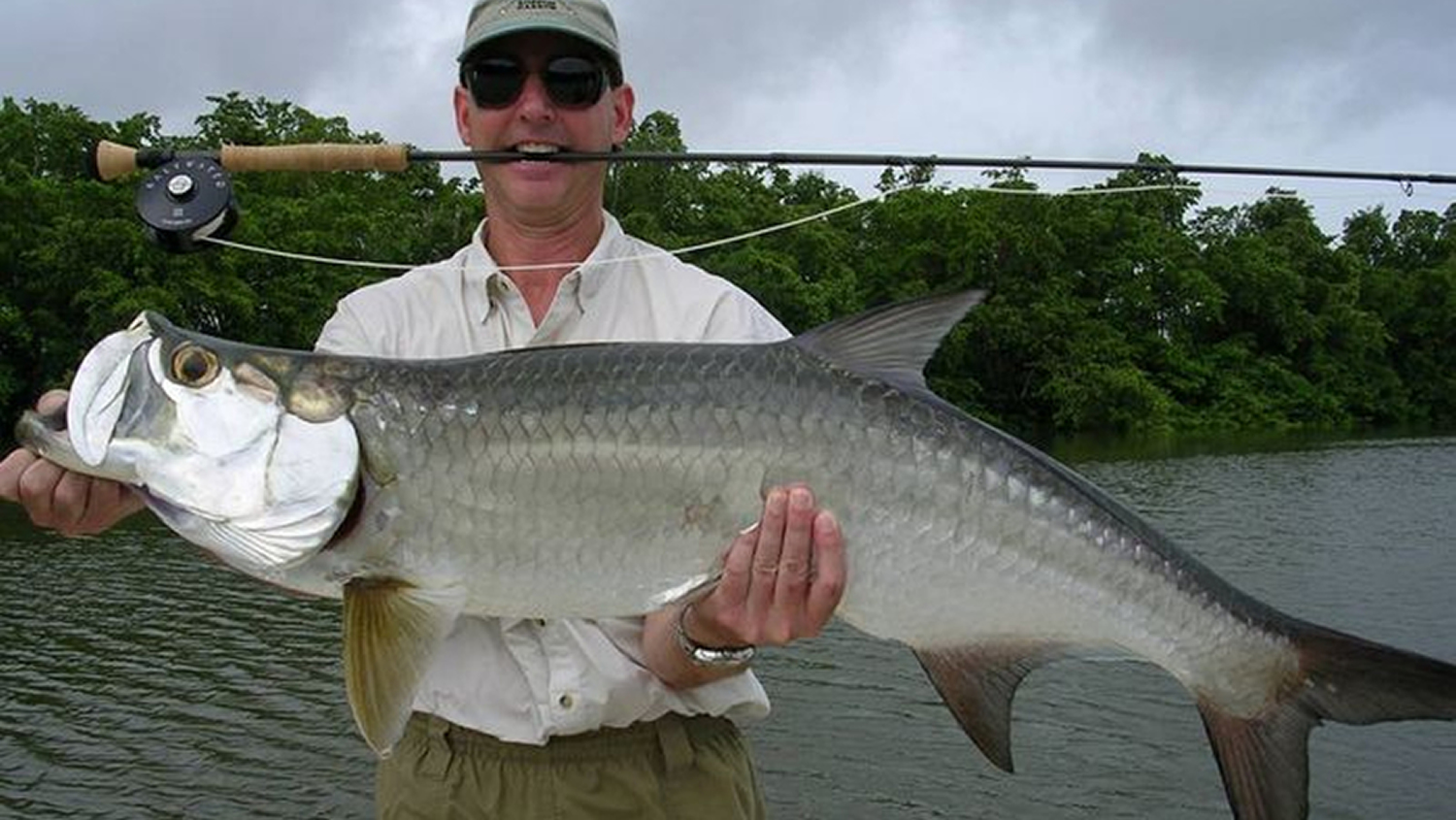 Fly Fishing
Fly fishing for Tarpon is a whole different animal completely. So let's start with the basics. The color of your fly should reflect the color of the bottom of the area you are fishing. Most Tarpon flies used are 3"-5" in length. A number 2/0 hook for smaller tarpon and up to 5/0 for large fish. Commonly used by fly anglers is a streamer that has good contrast with the ocean bottom. Standard, orange, yellow, and red patterns are effective over sandy bottoms. For those darker bottoms, we like gray, blue, and green are more productive. When the mullet run is going on and Tarpons are seen feeding, match the hatch. Based on the size of the mullet, maybe 6"-8" match it in size. Common colors for mullet flies are white or lite gray flies with dark stripes to match the look of the bait.
When fly fishing canals and rivers, and bridges it's common to use a 5-7 weight fly rod. A minimum size tippet of 12lb up to 20 lb. Bridges are known as a favorite tarpon spot, but when fly fishing tries to avoid these spots. Typically the fly rod is just no match for the fish with so many obstacles to use against you. In some cases, maybe when on a boat and you can get the fish away from the piling it's doable. In general, not a good technique for fly fishing!
Live Bait Fishing
These are some of the common live bait used but are very specific to location, time of year, and what they are feeding on at the time of fishing. Mullet is a standard staple and the most producti