Deep-sea fishing is going out on a boat, spending the day on the water. Trying to catch fish that you would not be able to catch offshore or closer to land.
Offshore fishing or Deep-sea fishing when done right can be a fantastic experience. It's for the whole family and can help you to organize a perfect weekend outing. It is a sport that requires skill, concentration, and dedication and that can be done with kids and the entire family all year round.
Things to Remember When Taking Kids for Deep-sea Fishing Trip?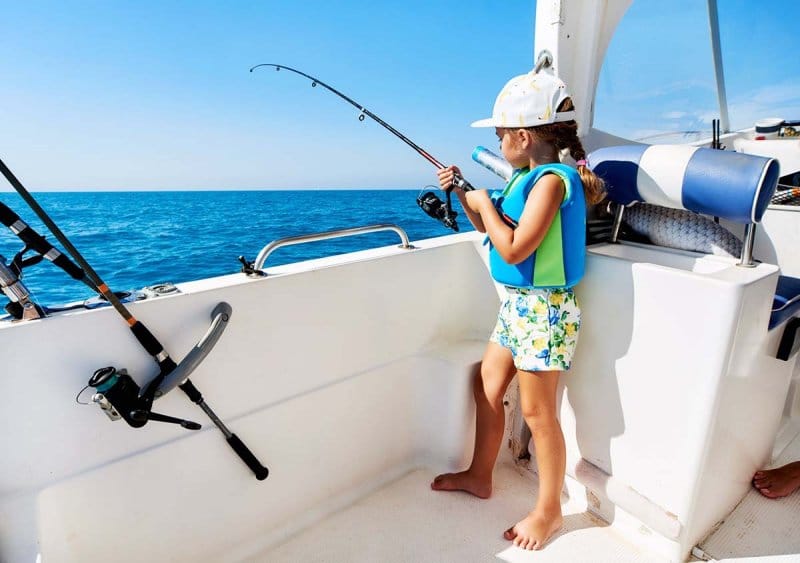 The first thing you need to remember is that young kids are always very high on energy. Which means they may have a hard time sitting down on the boat. They will be running around and moving things here and there a great deal.
So, you would need to take the time to go over the rules with your kids. Make it fun so that they know what they should be doing and what they can and cannot do when they are on the boat.
Kids should always be wearing a lifejacket. When on the water or around water to help ensure that if there is an accident, they will be safe and secure. Kids should be wearing slip-resistant footwear so that if there is water on the deck, they can keep their footing and don't fall off.
You also need to go over the basics of what to do when they catch a fish, how to work their fishing poles, how they handle the hooks, and so on. Taking the time to go over safety precautions with your kids is the best way to make sure that your child knows what to do and how to act.
What to Bring for Deep-sea Fishing?
• Sun protection
• Snacks
• Games or small toys
• Rods
• Reels
• Bait or lures
• Hooks
• Extra line
• Cooler for storing fish
• Life Jacket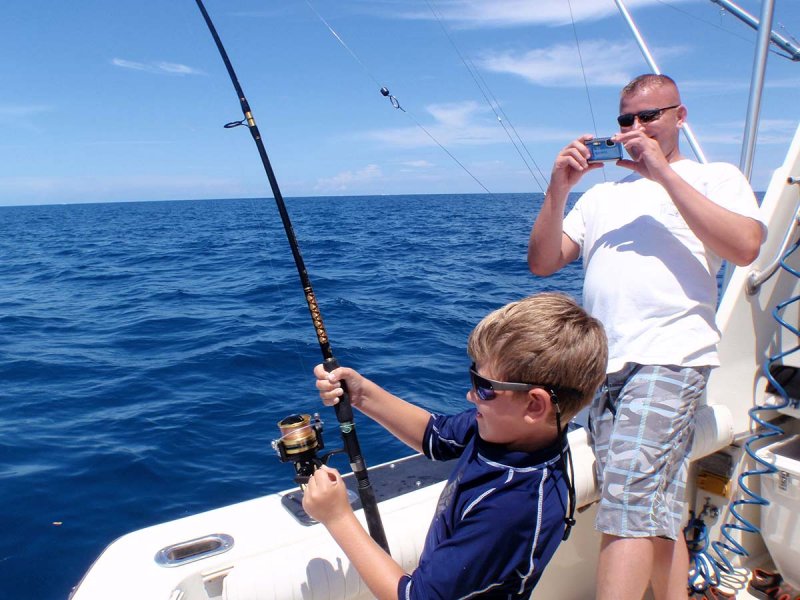 Related Blog: Offshore – Deep-sea Fishing – What to Bring
Tips and Techniques – Fishing Charters Guide
If you are going out with your kids, you must take some snacks with you. This is going to help keep them occupied, and make sure that they are not going to create chaos out of hunger.
You might also want to keep your kids busy when the action dies down and they are not as enthralled. You can take their favorite board game or small toys that they can play with while going fishing.
You can even share your fishing experiences from your college days or childhood. Your kids will be thrilled to hear your stories and maybe learn a lesson or two.
When out in the water, sun protection is a must. Things like sunscreen, hats, sunglasses, and more are going to protect the little ones on the water from harsh sun rays.
When you do go on a Deep-sea fishing charter, you should take the time to make sure that you have all the right lures, all the right hooks, fishing rods, and other equipment. The best way to know what you need is to get a deep-sea fishing charter guide.
The guides at iOutdoor are aware of the waters and are resourceful who can help you to find the right items and get the right overall equipment so that you can catch the fish that you want.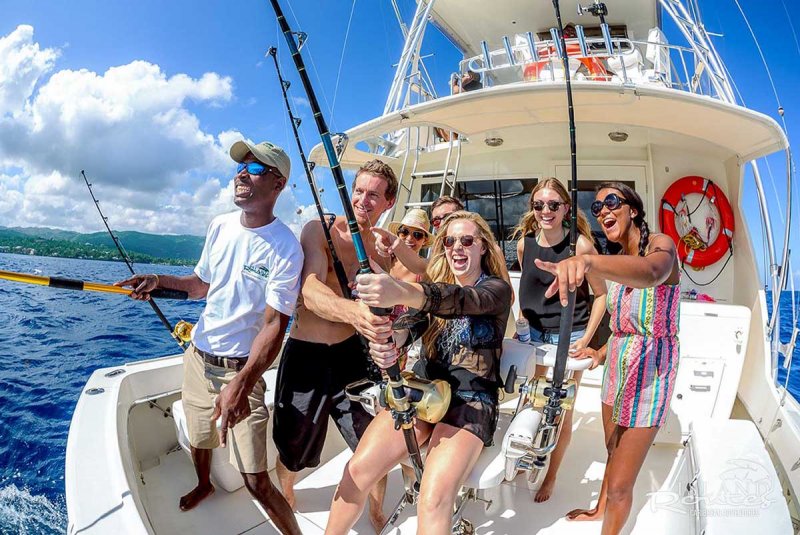 What Bait Works Best in Deep-Sea Fishing?
Different lures work for different types of fish and the right lures can help you get the fish you have been looking for. Bass are attracted to moving lures, while larger fish are going to be most likely to go for live bait like smaller fish. Fish like bass are going to be more likely to hide in trees and other sunken debris as they like to hide in shady areas.
If you are going on a fishing charter for the first time and you are just not sure what you need. A fishing guide is going to be a fantastic resource that helps you to find what you need to bring. How to go about catching some impressive Deep-sea fish. He/She will also take you to the areas that are best for the big catch.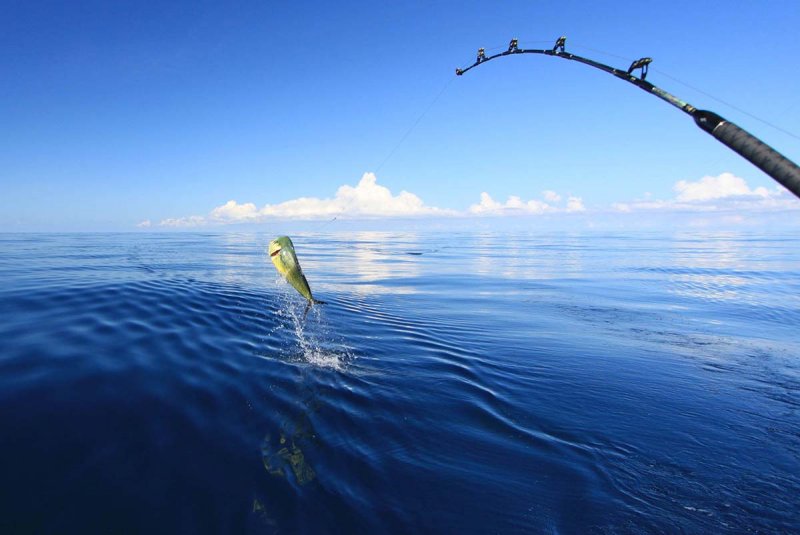 Checking The Facilities of Your Charter
You should check on with your charter company what kind of fishing charter is it- enclosed or T-top. On sunny days, a T-top will work fine while for rainy weather. An enclosed charter will keep you safe from getting wet.
Check if your charter has a bed, which can be helpful in seasickness, or a refrigerator or oven to enjoy some coolers or reheat your snacks.
When it comes to public places, hygiene is the first thing that a parent finds out. The same applies to your fishing charter, as you are going to spend the major part of your day. Cross-check with your service provider how clean and kid-friendly the boat is. You can read reviews online as well.
How To Keep Your Kid Away From Seasickness?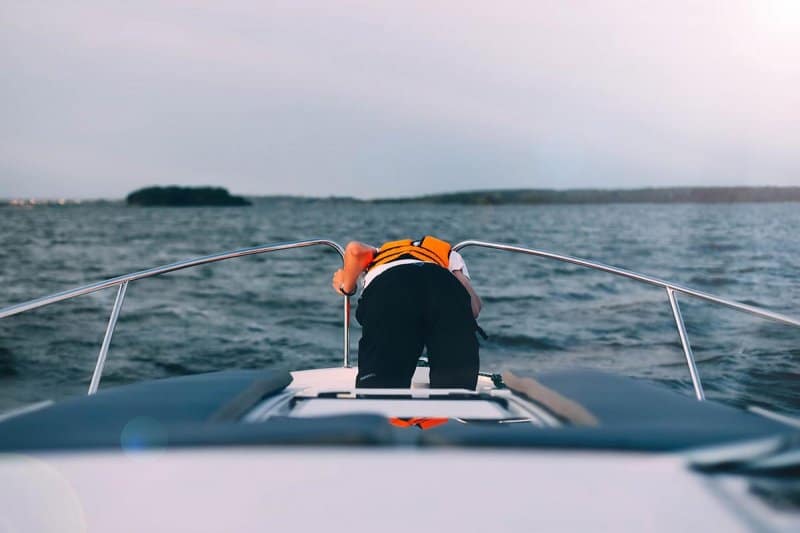 Nothing can be more disappointing than getting seasick while going fishing. Though it can happen with anyone, the least we can do is take steps to avoid it. There are some remedies that work for everyone, be it kids or adults, so that you can make the most out of your fishing trip. These tips are more like a life jacket, that will protect you from any kind of nausea.
It is not necessary that going fishing for the first time will make you seasick. So, don't let panic ruin your day out while fishing.
Feed your kids healthy food at least 24 hours prior and have a light meal the night before.
Don't disturb your cycle and get plenty of sleep so that you are fresh and free from any kind of nausea while fishing.
Wake up on time so that you have at least 1 hour between your breakfast and heading out.
Have a non-oily/spicy and easily digestible breakfast in the morning.
Kid fishing is a fun activity and with the right fishing tips and resources. You can get a great fishing trip and the fish that you want every time.
Related Blog: Why Deep-Sea Fishing Should Be In Your 2021 Fishing Next Trip List
Don't forget to follow us on Facebook, YouTube, Twitter, and Instagram.