Deep Sea Fishing in Destin FL
On our Destin Fl Deep Sea Charter from our fishing trip on Friday and Saturday.  We combined the trips to help ensure the guys caught some big fish. They really wanted tuna and it wouldn't have been possible on the shorter trip because of the distance we needed to travel.
We had another great group of guys from the railroad industry to take fishing, the weather was perfect for our fishing trip.  The seas were calm and the sun was shining. While on the way to fish for tunas, we got to see three humpback whales.  The guys got plenty of pictures and some great videos.  The second whale actually turned and swam towards us before diving down about 100 feet from the boat.  We hoped this was going to be a good omen, as these were definitely rare sightings around Destin.
On with the Fishing
Around 4 pm we started trolling lures and baits. Within 20 minutes s two yellow-fin tunas were hooked up and weighed around 65 pounds each.  Once it got dark, we began jigging and chunking for tuna's which is quite common this time of the year.  Over the next 6 hours, the guys managed to catch eleven additional Yellowfin and over thirty Blackfin tunas. The largest yellowfin was in the 80 pound class.  In addition to the tunas, we caught more barracudas than we wanted.  There was definitely not a shortage of action once the fishing started.  All the boxes were full of fish and it was time for the ride home.
We look forward to taking these guys again, not sure if it was luck or just perfect timing but will find out on the next trip. Next time we will try to work on their goal of catching sharks and swordfish.  On this trip, they all got to catch their first yellowfin tunas.  It is so exciting to help people catch fish that they have never caught before.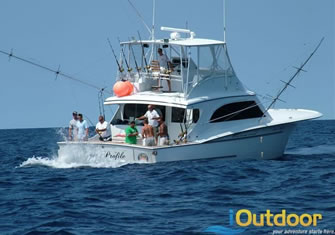 More about Deep Sea Fishing in Destin
Destin Florida is known as 'The World's Luckiest Fishing Village,' it's no surprise that deep-sea fishing is so special in the area. Because of its geographic location, it is one of the closest ports to the Gulf of Mexico's deep blue waters. The area boasts the largest fishing charter population in Florida, with hundreds of charter boats the area is primed and ready to show you what lies in the deep blue sea. Without a doubt, deep-sea fishing is the craze. But, Destin also for those concerned with seasickness has spectacular inshore and nearshore fishing charters.
Area charter boats are known for the outstanding bottom fishing for Red Snapper, but during a Destin deep sea fishing charter and you'll find many other species that will get your attention. Snowy Groupers, Yellow Edge Groupers, and Golden Tilefish are common when using the technique called, "deep dropping." While a lot of this style of fishing is done after dark, it makes it quite common to use glow sticks and LEDs for deep water.  Always some of the most exciting deep sea fishing is trolling for pelagic fish, and Destin pretty much has it all.
When is the Right time Go?
As with all locations in Florida or better yet on the coastal waters of the United States, there is always something to catch year-round. While Gulf of Mexico is no exception to this, you always have to consider weather conditions when taking a deep-sea fishing trip. Charters are commonly rescheduled due to weather in Destin, the winter brings high winds and cold. Why does the summer bring thunderstorms and hurricanes? It is still the most popular time to fish and vacation in Destin.
The summer brings exceptional Snapper, Tilefish, Swordfish, and Groupers fishing. If you are in search of pelagic fish, April to October is prime fishing time. A short window between, June-July can be an outstanding time to fish for wahoos, Tuna, Mahi, and Sailfish. And to be more specific, Destin even has a small window for White and Blue Marlin which is in September.
October is a time to avoid for fishing charters, as you witness to the Destin Fishing Rodeo with hundreds of boats on the water. For serious anglers, this is something to experience at least once!